The Westminster election is imminent so I will analyze the 9 Belfast region constituencies followed by another analysis of the remaining 9 constituencies.
The recent District Council elections provide a clue as to the Westminster vote. There was also a recent LucidTalk poll on voter preferences. There has as well, been a large increase in voter registration. Between the Westminster election in June 2017 and November 1st 2019 the electorate increased 23,000. However, in the month of November anothe27,000 voters were added.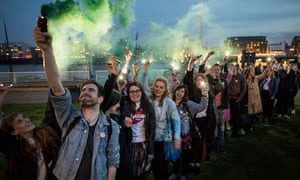 Brexit is also the main issue in this election and Northern Ireland voted 56% Remain. Recent polls have shown that the electorate is now 60% Remain.
The District Council elections in May 2019 showed the following results with 677,000 votes.
SF 23.4%
SDLP 11.9%
Aontu 1.1%
PBP 1.4%
Other Nationalist 3.8%
Total Nationalist 41.6%
Alliance 11.5%
Green 2.1%
Other 0.5%
Total 14.1%
UUP 13.9%
DUP 23.8%
Other Unionist 6.6%
Total Unionist 44.3%
Not all of the 677,000 voters who voted in May are eligible to vote in the Westminster election. EU nationals who voted in the District Council election are not permitted to vote in Westminster election so excluding those EU voters there may be 665,000 voters who can and will probably vote in the Westminster election.
However, Westminster elections have a much higher turnout than local elections. In 2017 812,000 voters out of an electorate of 1,244,000 voted for a turnout of 65%. Since there are an additional 50,000 voters on the electorate one would expect a voter turnout of 845,000 voters this week with identical turnout. So another 180,000 voters could vote this week compared to May.
Who will these voters be?
The extra 50,000 new registered voters are more likely to be younger voters since that age group has the lowest rate of voter registration. Of the 27,000 new voters added in November the largest increases were in North and South Belfast with 2,800 in each constituency.
In looking at the ward data they appear to be more likely non unionist voters.
East Antrim: Safe DUP
Sammy Wilson easily won with 57% in 2017. The new UUP leader Steve Aiken is standing here so the UUP vote will be up. The DUP vote should be down but probably still above 50%.
Lagan Valley: Safe DUP
Jeffrey Donaldson won with almost 60%. This constituency voted 53% Leave and now would likely be evenly divided on Brexit. The DUP should win with slightly over 50%.
Strangford: Safe DUP
Jim Shannon won with 62% in 2017. His vote will be lower this time but still comfortably above 50%.
West Belfast: Safe Sinn Fein
SF won with 59% of the vote in 2017. The District Council results indicate they will maintain this vote and may reach 60%.
South Antrim: Too close to call between UUP and DUP.
In 2017 Paul Girvan of the DUP defeated Danny Kinahan of the UUP by 38.2% to 30.8% with a margin of 3,200 votes. South Antrim was evenly divided between Leave and Remain. There have been 3,400 new voters added since 2017 (5%) and it is likely that many of these are younger Remain voters. Recent polls show that the DUP vote will be down 20% from 2017 with a steady UUP vote so this constituency will be very close. The District Council election showed that the DUP was 5% higher than the UUP and 10% higher than Alliance with 7% for independent unionists. Even minimal tactical voting by Alliance and nationalist voters would result in the defeat of the DUP, a temptation that some of those voters will find hard to resist. I would give the UUP a slight edge due to Brexit.
North Down: Leaning Alliance
IN 2017 Sylvia Hermon defeated Alex Easton of the DUP 41% to 38% with a margin of only 1,200. While Easton is standing again Sylvia Hermon has retired. The UUP have a well-known local MLA, Alan Chamber, as their candidate. There is also a Conservative candidate. Stephen Farry is standing for Alliance with backing from the Green Party, SDLP and SF (all of whom are not competing). In the May District Council election the UUP polled 20% and the DUP 28.5% with 9% for other unionists. The Alliance vote was 26% and the Green vote 14.7% with 1.5% for nationalist and non unionist independents. Since the vast majority of the Green and nationalist voters will vote Alliance, the Alliance vote should be at least 41%. Even if most of the other unionist voters choose the DUP that DUP vote will not exceed 36% to 37%. There are also 1,600 new voters on the register and most of these are likely younger and/or Remain voters. North Down voted 52% Remain and this would be over 55% in 2019. Alliance should win here.
East Belfast: Too close to call between Alliance and DUP
In 2017 Gavin Robinson of the DUP easily defeated Naomi Long of Alliance 56% to 36% with a margin of 8,500 votes. However, half of that margin was due to tactical voting by UUP voters. The UUP vote collapsed from 13% in the 2017 Assembly election to 3% in Westminster. What has changed in 2019? The 2019 Council election showed both the DUP and Alliance receiving 33%. The Green Party and nationalist parties received 10.5%, the UUP 13.5% and other unionists 10%. The DUP will receive most of the other 10% unionist vote and Alliance will receive the 10.5% Green nationalist vote. East Belfast voted 51% Leave but would now be a narrow Remain constituency. There are also 2,700 new voters since 2017 (1,700 in November alone). These are more likely younger and Remain voters. These new voters and the willingness of nonvoting Remain voters to vote will determine the outcome. Also if there is any tactical voting by UUP voters, as there was in 2017, the DUP will be helped if this occurs. I believe that tactical voting to the DUP by UUP Remain voters is very unlikely and some of these voters may vote Alliance.
South Belfast: Safe SDLP
The dynamics of the election here are totally different than in 2017. In 2017 Emma Little Pengelly of the DUP won over the Alasdair McDonnell of the SDLP 30% to 26% with a margin of 2,000. In 2019 Claire Hanna is now competing for the SDLP. Furthermore, events in North Belfast precipitated a chain reaction. Initially, the new leader of the UUP, Stephen Aiken, stated that the UUP would compete in all 18 constituencies. However, in North Belfast this led to loyalist paramilitary threats against the UUP so the UUP decided not to compete in North Belfast. This in turn led to a decision by the SDLP to stand down in North Belfast, East Belfast and North Down and their voters were advised to back the strongest pro Remain candidate. The Green Party followed by standing down in North Belfast, South Belfast, East Belfast and North Down and asked their voters to vote for anti-Brexit candidates. The leader of the Green Party, Claire Bailey, openly endorsed Claire Hanna. SF also declined to compete in South Belfast. The combined SDLP-SF-Green vote in 2017 was 47% which far exceeds the DUP vote of 30%. The combined total unionist vote in the Council election was only 32% while the combined SDLP-SF-Green vote was 44%. Alliance received 24%. There were also 3,800 new voters added since 2017 (2,800 in November) and few of these are in unionist areas. While not all Green and SF voters will vote SDLP, the SDLP vote should be well over 40% and the DUP will be less than 30%.
North Belfast: Leaning Sinn Fein
See South Belfast above for how events unfolded in North Belfast. The 2017 vote was:
Nigel Dodds DUP 21,240 (46.2%)
John Finucane SF 19,159 (41.7%)
SDLP 2,058 (4.5%)
Workers Party 360 (0.8%)
Green 644 (1.4%)
Alliance 2,475 (5.4%)
The DUP won by 2,081 votes. However, in 2019 only SF, Alliance and the DUP are competing. There are over 3,000 SDLP, Green and Workers Party voters that will choose other candidates. While some may vote Alliance, more than 2,000 will vote SF. So if that 2017 election had been held with only SF, DUP and Alliance candidates it would have been very close. What has changed since 2017? The Council election showed a combined unionist vote of 41% and a combined nationalist vote of 43% and a combined Alliance-Green vote of 16%. 4,000 new voters have been added since 2017 with 2,800 in November. It appears the increased registration is concentrated in certain wards and it is likely that less than 40% of those voters are unionist voters. While this election would have been even in 2017 the demographic changes alone would give SF a 500 vote edge.
The recent actions of the loyalist paramilitaries, as well as the intimidation of Catholic families attempting to move into housing in Ballysillan, will likely increase nationalist turnout. It is also possible that some Alliance voters will vote SF in order to defeat Nigel Dodds. I expect SF to win by a narrow margin though it could exceed 1,000 votes.
Overall, I expect the loss of DUP seats in South Belfast and North Belfast and a gain of 1 seat each for SF, SDLP and Alliance. East Belfast and South Antrim are too close to call. If another LucidTalk poll is released this week with Westminster voting intentions I will update my predictions.